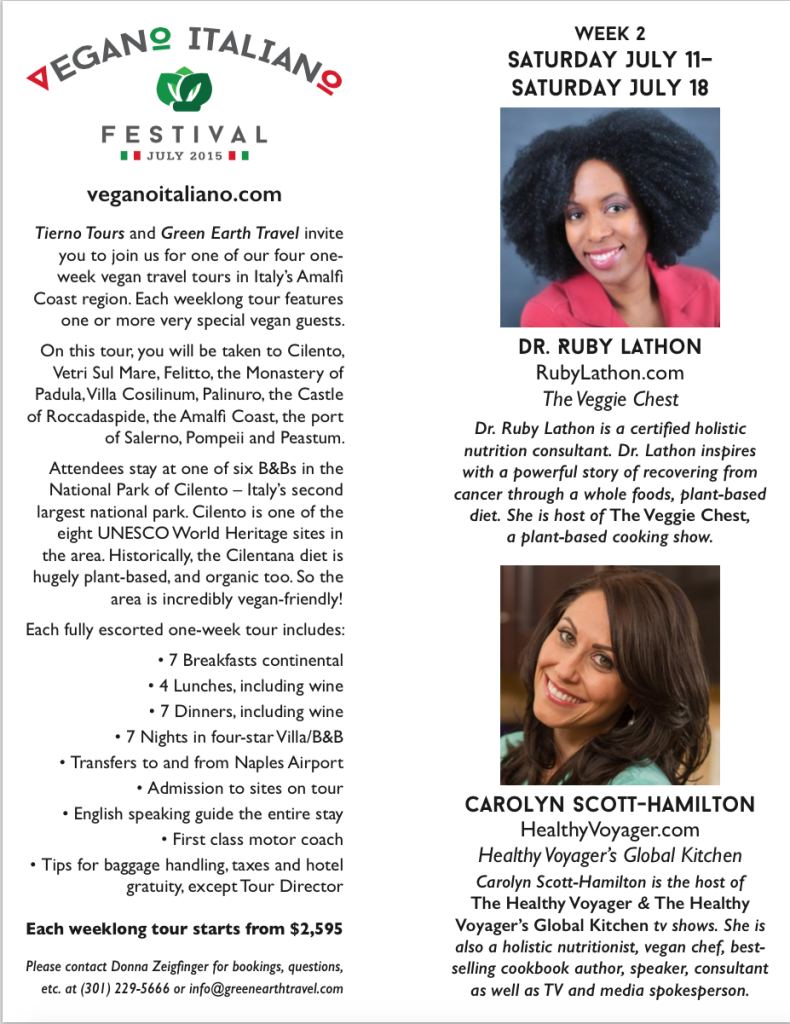 Have you ever wanted to visit Italy? Well, make plans to join me for a once in a lifetime trip to Naples, the Amalfi Coast and even Pompei, all while enjoying earth shatteringly delicious, organic, vegan food! Carolyn will be hosting the inaugural Vegano Italiano Festival, July 11-18th, and would LOVE to have you join her!
She'll be along for all of the fun while also teaching a fun demo on healthy, Italian home cooking and she is so honored to be a part of this incredible event. Carolyn LOVES Italy and you will too and this trip is like no other!
The tour includes:
7-Breakfasts continental
4- Lunches, including wine
7-Dinners, including wine
7-Nights in four-star Villa/B&B,
Transfers to and from airport – Naples
All admission to sites
English speaking guide throughout your stay
1st class motor coach
Tips for baggage handling, taxes and hotel gratuity, except Tour Director
and here is what awaits you on our 7 day Italian adventure:
Day 1 – Saturday
Arrive in Naples (NAP), drive to Cilento, stopping in Vetri Sul Mare, a small town where we will see ceramics-making demos in almost every shop along Main Street.  Then we will continue south to check into our villa and meet for our Welcome dinner. (D)
Day 2 – Sunday
Felitto – Harvest nature walk, where we will learn about all the wild greens, vegetables and herbs that have been used for centuries in the local dishes of Cilento. After our harvest walk, we will have lunch in a local farm house. After lunch we can choose to take a ride down the river on a paddle boat* or a nature walk throughout the mountains of Felitto. (B, L, D)
Day 3 – Monday
Our first stop is the Monastery of Padula, a UNESCO World Heritage Site and the largest antiquity of southern Italy. We will have lunch in Villa Cosilinum, a beautifully restored Villa at the top of this village. After lunch, we will have a tour of Joe Petrosino's home before heading back to the villa for dinner and a cooking lesson from our host. (B, L, D)
Day 4 – Tuesday
Drive down the Coast of Cilento to the village of Palinuro, where we will get our boat ride to the five Grottos (caves) of the cape. We will have lunch overlooking the water and then free time on the beach. Dinner includes a cooking lesson from host. (B, L, D)
Day 5 – Wednesday
Tour of the Castle of Roccadaspide, built in 1242 by Fredrick II, passed down to the Duke Ettore Giuliani, who will give us the tour himself. After lunch at a local trattoria we will take a ride to the city of Agropoli where we will have free time to explore the city. Next we will drive back to the villa for Pizza Night, where we will make our own brick oven pizza. (B, L, D)
Day 6 – Thursday
We are heading to the Amalfi Coast. Leaving from the port of Salerno you can choose to spend the morning in Positano or the Island of Capri. Dinner back at the villa. (B, D)
Day 7 – Friday
We are spending our last day in Pompeii.  We will have a 2-hour guided tour of the ancient city then drive back to the villa, stopping at Paestum, where you can see three of the best preserved collections of Greek temples outside of Greece. (B, D)
We will provide a list of things to do and vegan-friendly places to eat and offer the option to come with us to see your favorite spots on free days.
Day 8 – Saturday
Transfer to airport Naples – NAP.
* Boat rides are subject to weather and seasons
Click here to download/print the Booking Conditions.
Click here to download/print the Trip Registration Form.
Click here to download/print the Payment Information Form.
Contact Donna Zeigfinger at Green Earth Travel LLC
info@greenearthtravel.com
Fax-888-688-0457
Toll free:(888) 246-8343
Spots are booking up FAST so be sure to secure your spot for July 11-18, 2015 ASAP!
Bon Giorno!