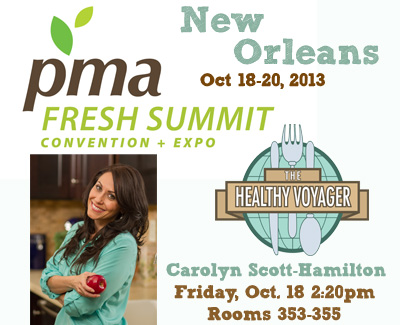 On October 18, 2013 at 2:20 pm, Carolyn Scott-Hamilton will be joining the PMA Education Series stage for the second time. This time she joins a group of experts on a panel covering the online promotions, blogger and brand relations.
Having been invited to speak on this topic at Natural Products Expo West and touching upon it at PMA Fresh Summit 2011, Carolyn is honored to be the only online personality on the panel who will be offering valuable insight on how major brands can shift their marketing strategies over to the online space effectively.
Held in New Orleans this year, Carolyn will be speaking at the convention as well as covering the floor for The Healthy Voyager site and show.
For more information on the educational series and Carolyn's panel discussion, please visit the PMA website.