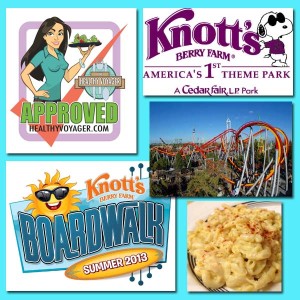 This summer, Knotts Berry Farm, America's 1st theme park, will soon be the first of its kind to offer fully gluten free, vegan and diabetic friendly options throughout the park. Thanks to tv personality, host, nutritionist and chef, Carolyn Scott-Hamilton, aka The Healthy Voyager, the park will be rolling out new items around the park all summer long at both Knotts Berry Farm and its water park, Soak City.
Carolyn is a well-respected figure in the health and green living and travel world, having authored a best-selling cookbook, hosted a popular travel and lifestyle web show and graced national shows with her fun, healthy tips, recipes and overall expertise. Specializing in vegan and special diet living, Scott-Hamilton has created a number of dishes for Knotts Berry Farms special diet guests.
Soon, park goers will be able to enjoy vegan, gluten free and soy free baked mac n' cheese, vegan and gluten free pizza, vegan "buttermilk" battered "chicken" tenders and tofu scramble for brunch, just to name a few. Along with vegan and gluten free friendly burgers, hot dogs, salads, and yes, their popular funnel cakes, special diet theme park enthusiasts will not only be able to enjoy the rides, but also the plethora of food options, both savory and sweet.
Knotts Berry Farm is already serving some of the items and will continue to roll out more this summer. Be sure to ask for more details when visiting the park as an official launch will be coming up later in the season.
More information to come at Knotts.com